Five charts to explain France's presidential election
Comments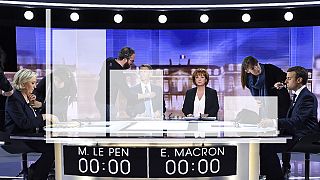 France will choose its new president on Sunday, either centrist Emmanuel Macron or far-right candidate Marine Le Pen.
The pair clashed in a fiery television debate on Wednesday, ahead of the second round of voting.
But, away from the insults, rhetoric and soundbites, what are the issues on French voters' minds?
Unemployment
With nearly one-in-four young people out of work, the highest it's been over the last two decades, unemployment is a major issue for voters.
Current president Francois Hollande recognises the importance of the issue. He said he would only run for re-election if he had made inroads into getting France's unemployment rate down. His absence from the contest, therefore, speaks volumes.
Macron proposes reducing unemployment benefits as a means of encouraging people to get back into work quicker.
Le Pen, meanwhile, suggests protectionist measures to favour employment for French people.
Figures show the unemployment rate was at its lowest, over the last two decades, under the presidency of Nicolas Sarkozy, while the proportion of young people out of work was smallest under his predecessor, Jacques Chirac.
Unemployment and youth unemployment in France 1995-2016
Source: Insee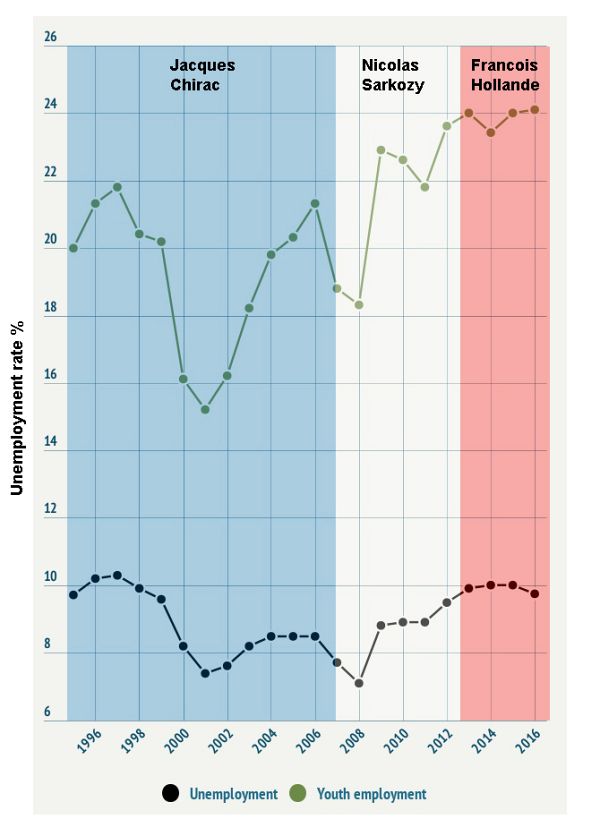 Terrorism
ISIL-inspired terrorism has dominated the latter half of Hollande's five-year tenure, with more than 230 people dying in attacks on French soil since January 2015.
The country remains under a state of emergency, introduced in the aftermath of the suicide attacks in Paris in November 2015.
Terrorism-related arrests in France far out-stripped other EU countries in 2015, as data from Europol shows below.
France saw a similar trend in 2016 – there were 300 arrests between January and September, according to France's interior ministry.
Le Pen says if elected she will expel foreigners with links to radical Islamism and strip those who take up arms against France of their nationality.
Macron says many of those who have attacked France are homegrown and the answer is for the French to show a good example and create a more inclusive society.
Terrorism-related arrests, 2015
Source: Europol
The rise of the far-right
After Brexit and the election of Donald Trump, all eyes are on whether Marine Le Pen can continue the populist wave by becoming France's next president.
As the graphic below shows, Le Pen's National Front (FN) has increased its vote share (in blue) since Marine succeeded her father Jean-Marie as leader in 2011.
She has succeeded in getting to the final round of voting, but polls suggest Macron will triumph.
Commentators have been quick to draw comparisons with 2002, when Jean-Marie reached the second rounding of voting.
That prompted regular demonstrations against the prospect of a FN candidate becoming president.
But, 15 years on, analysts have pointed out there have been far less people protesting against FN, a sign of Marine's success in cleansing the image of the party.
Vote share of France's National Front, 2002-2017
Source: France's Interior Ministry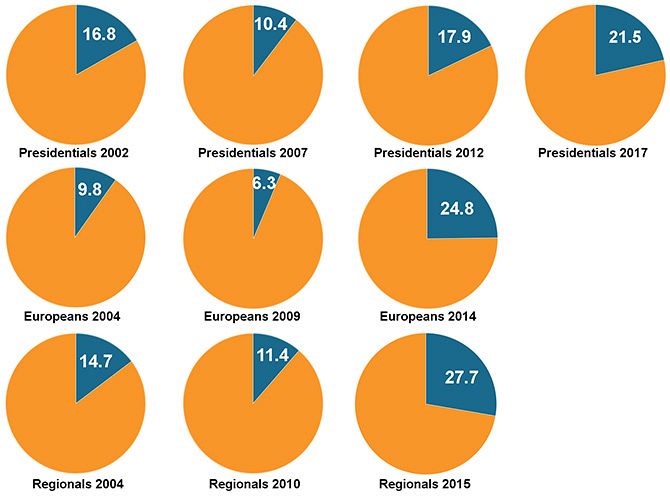 Social spending
The French are among Europe's biggest spenders on social security, as a proportion of the country's GDP, figures from the Organisation for Economic Co-operation and Development (OECD) reveal.
As a result the French enjoy generous benefits and some are keen to protect these advantages at the ballot box.
Le Pen wants to cut state spending, including outlays on welfare.
Macron proposes saving less than his right-leaning rivals, instead putting the emphasis on reallocating where money is spent.
Social spending in France, 1995-2016
Source: OECD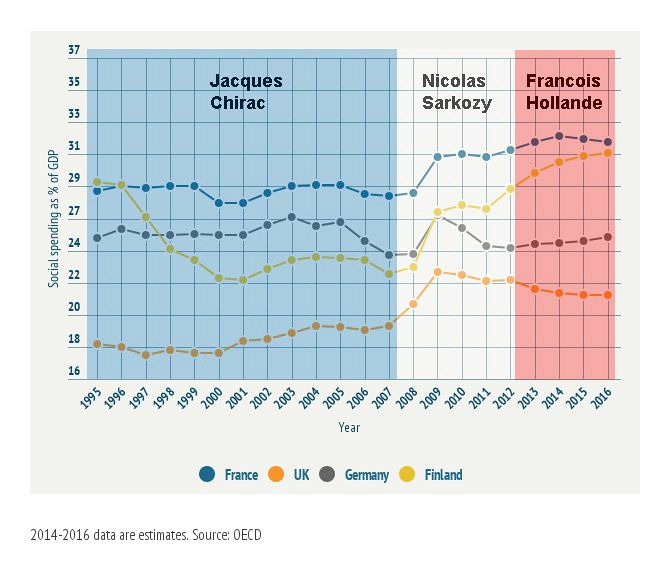 Immigration
Le Pen has made it a central plank of her campaign to reduce annual immigration into France to around 10,000 people.
She intends to do this by re-establishing national borders and removing France from Europe's free movement zone.
Macron wants to maintain France's tradition of accepting migrants and instead focus on speeding up the asylum application process and properly securing Europe's borders.
Official data shows France's net migration has been around 67,000 people in recent years, on the back of an increasing number of asylum applications (see below).
Poll results released last September revealed 62 percent of French people surveyed said they were against receiving migrants that had arrived in Europe via Italy or Greece..
Asylum applications, France, 2008-2016
Source: Eurostat