EU Brexit negotiator Barnier demands guarantees on citizens' rights
Comments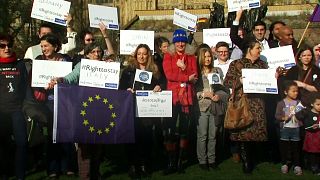 Speaking at an EU conference in Italy on Friday, chief Brexit negotiator Michel Barnier said that member states must have reassurances that citizens affected by Britain's withdrawal from the bloc will be treated "properly and humanely".
The only cause of uncertainty is Brexit

EU's chief Brexit negotiator
He spoke amid growing tensions over the divorce.
"The European Council has decided that preserving the rights of EU citizens and their families will be a priority," Barnier said in a speech at the 'State of the Union' gathering on the bloc's future.
"The level of protection afforded under EU law must not be watered down. Brexit should not alter the nature of people's daily lives."
EU's chief Brexit negotiator lays out a long list of demand for EU residents in Britain https://t.co/Ypjx4iHbvDpic.twitter.com/4t7JBS0ToM

— Bloomberg Brexit (@Brexit) 5 mai 2017
"The EU requires crystal clear guarantees that rights will be effectively enforced," Barnier told the meeting in Florence.
He also stressed that: "The European Court of Justice will play its role".
The Frenchman said that protecting the 3.2 million EU citizens living in the UK and 1.2 million Britons resident in EU member states is "a moral duty".
"We will not discuss our future relationship with the UK until the 27 Member States are reassured that all citizens will be treated properly and humanely. Otherwise, there can be no trust when it comes to constructing a new relationship with the UK," he said.
British Prime Minister Theresa May said this year that she has suggested a deal to guarantee rights immediately but that this idea was rejected.
Barnier denied that others were to blame for the ongoing uncertainty.
"The only cause of uncertainty is Brexit," he said.
EU citizens applying to stay permanently in UK will be left in limbo for a decade, warns report https://t.co/JSHnXmHuL9

— The Independent (@Independent) 5 mai 2017