No charges for police over Sterling killing in Baton Rouge
Comments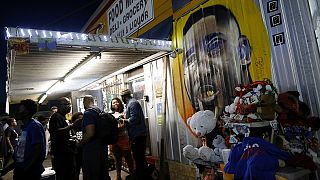 The US justice department has decided not to bring charges against two white police officers involved in the 2016 fatal shooting of a black man in Louisiana last summer.
The decision, according to multiple media reports,comes despite the incident being caught on video by eyewitnesses.
Thirty-seven year-old Alton Sterling was selling CDs outside the Triple S Food Mart when he died as he lay on the ground pinned down by the two officers.
#BREAKINGNEWS: DOJ will not charge Baton Rouge officers in death of Alton Sterlinghttps://t.co/jrpGNil4R1pic.twitter.com/PThM2hrNNG

— ABC7 Eyewitness News (@ABC7) May 2, 2017
Graphic footage showed him being thrown to the ground by the two cops after they received a complaint about a man making threats with a gun while selling CDs outside a convenience store in Baton Rouge.
His death inflamed racial tensions in Louisiana's capital, cast a national spotlight on the history of strained relations between police and black residents of Baton Rouge and sparked widespread protests. Together with other fatal police shootings of black men the "Black Lives Matter" campaign was born.
Sterling's family have said they have not been contacted by the justice department.
If confirmed, it will mark the first such announcement made by the department under the Trump administration.
Justice Dept. will not prosecute Baton Rouge officers in shooting death of black man: report https://t.co/qezhRENLlzpic.twitter.com/pZe2K9JMYc

— The Hill (@thehill) May 3, 2017
Activists have already described it as a step backwards under new attorney general Jeff Sessions, who has pledge to review other decisions made after similar controversial police killings.