Merkel backs German defence minister over far-right army terror scandal
Comments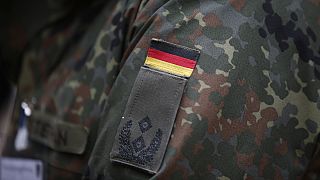 Chancellor Angela Merkel has given full support to Germany's embattled defence minister over her handling of a scandal about far-right sympathisers in the army.
Alarm bells should have been heard earlier

German Defence Minister
It follows the arrest of an officer suspected of planning a racially motivated attack.
According to press reports, a comrade of the 28-year-old lieutenant knew of his alleged plan.
Identified only as Franco A, it is claimed he planned to strike in the guise of a Syrian refugee, having falsely registered.
Defence Minister Ursula von der Leyen has angered the armed forces and some politicians by lambasting "weak leadership" across the military.
"His behaviour, his thinking which he clearly laid on the table, is intolerable," she said.
"Alarm bells should have been heard earlier so that he could not have climbed the career ladder in the German army."
Germany's von der Leyen seeks to reassert leadership in army terror scandal https://t.co/0PG4hVBTu0#Bundeswehrpic.twitter.com/dLyDv90aqL

— dwnews (@dwnews) 3 mai 2017
The minister said it was unacceptable that the racism evident in a master's thesis written by the suspect had not triggered disciplinary action by his superiors.
And highlighting the gravity of the scandal, she has cancelled a trip to the United States and summoned Germany's 100 top generals and admirals to discuss this case and separate incidents of bullying, harassment and sexual assault in the military.
Germany is sensitive to any signs of far-right extremism in its armed forces because of its Nazi past but recent figures indicate it is a significant problem.
A spokesman for the defence ministry has said that between 2012 and 2016, 18 members of the military had been suspended from duty because they held rightist views. He also said that over a longer period of time, there had been around 280 suspected cases of right-wing extremists.
Defence ministry investigating far-right terror cell in army: report https://t.co/W7HzUDT3qIpic.twitter.com/U3cCoRdMd4

— The Local Germany (@TheLocalGermany) 2 mai 2017
with Reuters