'Fake news' VS free press: World Press Freedom Day 2017
Comments
By
Sarah Taylor
with
United Nations, Amnesty USA, World Press Freedom Index, Time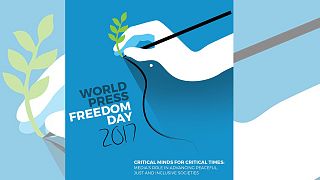 Most of us will have heard the term 'fake news' bandied around, particularly in recent months.
Reporters play a critical role in holding governments accountable for rights abuses.

Executive Director, Amnesty USA
As the annual World Press Freedom Day rolls around again, the United Nations and rights groups are calling for free and independent reporting to be respected.
Amnesty International highlighted arrests made as journalists covered events in the US, Turkey and several other countries.
"Reporters play a critical role in holding governments accountable for human rights abuses. Whether they are working in Turkey, Egypt, Mexico, the United States or anywhere else in the world, the press must be able to do their job," said Margaret Huang, Amnesty USA's executive director.
The UN also urged leaders to support a free media.
"A free press advances peace and justice for all", UN Secretary-General Antonio Guterres stated in a video message to mark this year's event.
What is World Press Freedom Day?
Held annually on May 3, World Press Freedom Day is co-ordinated by the UN Educational, Scientific and Cultural Organization (UNESCO).
Its purpose is threefold:
"To evaluate press freedom around the world; to defend the media from attacks on their independence; and to pay tribute to journalists who have lost their lives in the exercise of their profession."
May 3 is #PressFreedom Day. Govts everywhere must protect & promote independent journalism - @davidakayehttps://t.co/HIoi2YUdhi#WPFD2017pic.twitter.com/efog5UcWFX

— UN Human Rights (@UNHumanRights) May 2, 2017
The theme in 2017 is 'Critical Minds for Critical Times: Media's role in advancing peaceful, just and inclusive societies'.
This year, the main event and prize ceremony will be hosted by the Indonesian government and the country's Press Council, and held in Jakarta.
Indonesia ranks 124 of 180 in the 2017 World Press Freedom Index.
The 2017 UNESCO/Guillermo Cano prize goes to an imprisoned Eritrean-Swedish journalist called Dawit Isaak. Arrested during a media crackdown in September 2001, he has not been heard from since 2005 and his current location is unknown.
UNESCO issued a statement saying the commemoration comes at a time when "free, independent and pluralistic media has never been so important to empower individual women and men, strengthen good governance and the rule of law, and take forward the 2030 Agenda for Sustainable Development."
Guillermo Cano, the Colombian reporter the prize is named after, was assassinated in front of the offices of his newspaper, El Espectador, in Bogota in 1986.
UNESCO Director-General Irina Bokova noted that 102 journalists were recorded killed in 2016, adding:
"Far too often, murder remains the most tragic form of censorship."
To all the #journalists who lost their lives in the name of #PressFreedom & #FreedomOfExpression! https://t.co/35Q8HXnSoU#WPFD2017pic.twitter.com/FpqVCSrOsc

— UNESCO (@UNESCO) May 2, 2017
Turkey and the
USA
Rights groups have pointed to events in Turkey and the US as examples of crackdowns on freedom of expression.
Turkey
Gathering pace is a campaign to demand the release of more than 120 journalists detained in Turkey following the summer 2016 coup attempt. It has garnered 250,000 supporters since February, including journalists, cartoonists and world-renowned artists.
Since the failed takeover attempt in July 2016, at least 156 of Turkey's media outlets have reportedly been shut down and some 2,5000 journalists and other media workers have lost their jobs.
This evening, ahead of #WPFD2017, @amnestynl projected imprisoned journalists names onto the Turkish embassy in The Hague. #FreeTurkeyMediapic.twitter.com/7Oj4JBn5gZ

— Milena Buyum (@MilenaBuyum) May 2, 2017
Amnesty USA gave this report of the situation in Turkey:
"Journalists have been arrested and charged with terrorism offences as a result of posts they have shared on Twitter, cartoons they have drawn or opinions they have expressed.
"This is taking place within the context of a wider crackdown against perceived government critics which has seen 47,000 people remanded in prison and more than 100,000 public sector employees summarily dismissed."
Yonca, the wife of detained investigative journalist Ahmet Sik, told Amnesty:
"Ahmet's imprisonment is a message to others: 'Speak out, if you dare'."
Turkey ranks 155 out of 180 on the 2017 World Press Freedom Index.
USA
On Press Freedom Day, the United Nations issued a statement# saying 'fake news' is on the rise, and media accountability and credibility are falling under question in a 'post-truth' world.
'Fake news' is an expression popular with new US President Donald Trump. The coverage of news events since the first day of his administration has been put under the spotlight in a call-to-action by Amnesty USA.
It claims reporters have been arrested for merely covering events such as the riots following Trump's inauguration in January and protests against the controversial Dakota Access Pipeline in February.
The USA ranks 43 out of 180 on the 2017 World Press Freedom Index.
Freelance journalist Jenni Monet reported from the pipeline demonstrations, near the Standing Rock Sioux Reservation. She says she was detained for 30 hours, despite following instructions to stay behind police lines and showing her press credentials.
"It didn't matter that I was complying with their instructions and it didn't matter that they knew I was a member of the press. I was handcuffed and held in a chain link enclosure with 18 other women for hours," she said.
Monet was charged with trespassing and rioting.
"The authorities cannot prevent a story from being told by intimidating reporters with the threat of arrest," she added.