Duke and Duchess of Cambridge seek damages in topless photo trial
Comments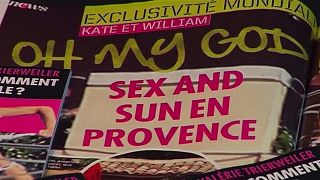 The Duke and Duchess of Cambridge are seeking 1.5 million euros in damages over the publication of topless photos in 2012.
During an initial court hearing at a trial in Nanterre, just outside Paris, it was said that Prince William had found the invasion of privacy "particularly shocking".
Photographers Dominique Jacovides and Cyril Moreau have denied taking the images. Lawyer Paul-Albert Iweins, representing magazine Closer which published the photos, has played down the case.
"I think that the article made everybody happy, from the readers to the royal family, whatever they might say since the couple was presented in a very favourable light so I don't really understand this unfortunate trial."
Closer is a celebrity magazine. It published the photos of William and Kate while they were on holiday in southern France.
The pictures outraged Britain's royal family rekindling ,memories of the media pursuit of Williams mother, Princess Diana who was killed in a car crash in Paris in 1997 while being chased by paparazzi.