Alitalia: on a wing and a prayer
Comments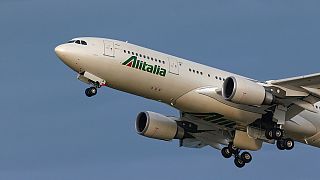 Italian airline Alitalia has started bankruptcy proceedings.
The loss-making carrier has asked the Rome government to place it under special administration.
That could lead to Alitalia being overhauled, sold off or shut down with the loss of 12,500 jobs.
This follows the workers rejecting a rescue plan including layoffs and pay cuts which means the airline cannot get more money from its shareholders to keep flying. The government has said it will not renationalise it.
Here for the entire media release https://t.co/MPnHnw2nDppic.twitter.com/bY3E1ezdVo

— Alitalia (@Alitalia) May 2, 2017
Etihad enough
Etihad Airways, which bought 49 percent of Alitalia when it was restructured in 2014, has said it won't stump up any more money without "fundamental and far-reaching restructuring".
James Hogan, the CEO of Etihad, said: "Without the support of all stakeholders for that restructuring, we are not prepared to continue to invest."
Alitalia is losing about one million euros a day and repeated bailouts have cost Italian taxpayers more than seven billion euros over the past decade.
Outraged at the cost, many Italians are urging the government to resist the political temptation to rush to its rescue again.
An opinion poll published soon after Alitalia workers voted to reject a union-backed rescue plan proposed by management, shows that 77 percent of Italians believed the airline should be left to fail.
Regular flight programme and services. No changes to flight schedule or operations. pic.twitter.com/hsjC8CpxMi

— Alitalia (@Alitalia) April 30, 2017