The pinball machine you can draw and an anti-war video game
Comments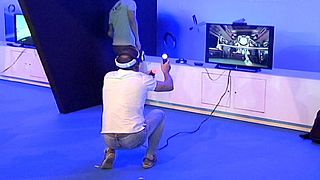 A ball game on a vinyl record player is just one of the unusual attractions at a games festival in Berlin.
More than 60 indie, alternative games are on display as part of International Games Week.
Another novel example, is "Flippaper", created in Lyon, France, a pinball machine that you can actually draw yourself before you play.
And one game that is quite topical is called "Orwell", which simulates the life of a spy who targets online data.
Melanie Taylor, the Munich-based creator of the game, said: "It is definitely something that we want to make people think more about: their online data.
"But we don't want to tell the people what to think. We just want to ask questions and want to make people, sort of, dwell more upon deciding what to do with their online data."
Then there is "Fallen", an anti-war experience based on a real battle in 2014 between Ukrainian soldiers and pro-Russian separatists over control of the Donetsk International Airport.
The difference here is that each character who dies is based on a real victim and their background stories are revealed.