The great photos that summed up our world over the past year
Comments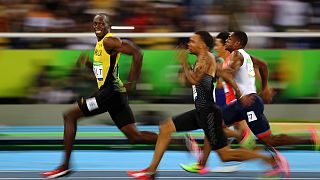 The World Press Photo Exhibition 2017 has begun wowing crowds with the best images that summed up our world over the past year.
The exhibition has opened in Lisbon and Barcelona and is also on in Amsterdam. It will tour numerous cities around the world in the coming months.
The exhibition shows the winning images of the 60th annual World Press Photo contest.
Hear Jonathan Bachman talk about his award-winning image at #WPPh2017 Festival in #Amsterdam. Get your ticket: https://t.co/lLouGloFi8pic.twitter.com/zT3V85G2Qf

— World Press Photo (@WorldPressPhoto) March 26, 2017
The entries were selected from a total of 80,408 images produced by 5,034 photographers from 126 countries.
The exhibition travels to 45 countries and is seen by more than four million people ever year.
Click here to see a gallery of all the winning images.
Images of refugees feature prominently among the winning photos.
One for example, an image by Daniel Etter, shows Nigerian refugees crying and embracing in a detention centre in Libya.
"No picture is worth your life" – https://t.co/UBR8rGJ3Gn An important read on the challenges facing freelancers. pic.twitter.com/GpltKLK6pp

— World Press Photo (@WorldPressPhoto) April 20, 2017
Exhibition Curator Sophie Boshouwers said: "The photographer (Etter) says the situation on those boats, when people are travelling to Europe, or trying to get to Europe, is very dire.
"But the situation in Libya is even worst because it's a lawless country and refugees are really being exploited. Women are sexually abused."
Photo of the Year
The World Press Photo of the Year was "An Assassination in Turkey" by Burhan Ozbilici. It captured the moment the Russian ambassador to Ankara was shot by a gunman.
Our 2017 Yearbook is here. Featuring 175 award-winning images & available in 6 languages–order your copy now: https://t.co/vYhXfH3Potpic.twitter.com/k0hwwsVh8A

— World Press Photo (@WorldPressPhoto) April 18, 2017
Ozbilici's picture – which also won first prize in the Spot News Stories category – shows how Mevlüt Mert Altıntaş, a 22-year-old off-duty police officer, assassinated the Russian ambassador to Turkey, Andrey Karlov, at an art exhibition in Ankara, Turkey, on 19 December 2016.
Altıntaş wounded three other people before being killed by officers in a shootout.
The World Press Photo of the Year honours the photographer whose "visual creativity and skills made a picture that captures or represents an event or issue of great journalistic importance in the last year".
Ozbilici is a staff photographer for The Associated Press, based in Istanbul.
Click here for a gallery of the 2017 Digital Storytelling Contest winners.
About the contest
The jury gave prizes in eight categories to 45 photographers from 25 countries: Australia, Brazil, Canada, Chile, China, Czech Republic, Finland, France, Germany, Hungary, India, Iran, Italy, Pakistan, Philippines, Romania, Russia, South Africa, Spain, Sweden, Syria, New Zealand, Turkey, UK, and USA.
A group of internationally recognised professionals in the fields of photojournalism and documentary photography – chaired by Stuart Franklin – convened in Amsterdam to judge all entries.
Founded in 1955, the World Press Photo Foundation is an independent, non-profit organisation based in Amsterdam, the Netherlands.