London: woman shot by police in anti-terror raid
Comments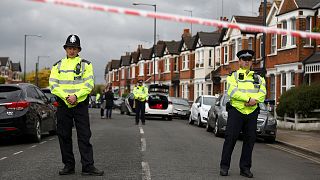 A woman in her 20s has been shot by police in an anti-terror operation in London. She is in a serious, but stable condition in hospital.
It happened as officers raided a house in the north-west of the city.
In a statement, police said an armed entry to the house was "necessary due to the nature of the intelligence that we were dealing with."
Six people have been arrested as part of the investigation in all, five at or near the property – and one in Kent, in southeast England.
They have been detained on suspicion of the commission, preparation and instigation of terrorist acts.
Police say the six arrests are not connected to a separate incident in London on Thursday, when a man carrying knives was detained near the Prime Minister's office.
The 27-year-old, reportedly on the intelligence radar, is suspected of preparing an act of terrorism.
"Given the horrors in London of a few short weeks ago and, may I say, our thoughts are still with the victims and survivors of that horrific day, I wanted to reassure the public that this increased level of terrorist activity is being matched by our action, the police and security services across the country, and we are making arrests on a near daily basis. You saw some of that yesterday," said Neil Basu, Deputy Assistant Commissioner at London's Metropolitan Police.
It was just over a month ago that a British-born convert to Islam ploughed a car into pedestrians on Westminster bridge, killing four, before stabbing a police officer to death. The attacker was shot dead at the scene.