Israel linked to series of blasts in Damascus
Comments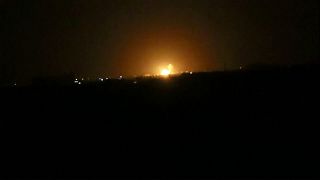 A series of blasts have ripped through an arms supply hub close to Damascus International Airport in Syria.
Whenever we receive intelligence that indicates an intention to transfer advanced weapons to Hezbollah, we will act

Israeli Intelligence Minister
Syrian rebel and intelligence sources are claiming that Israeli air strikes were responsible.
The Damascus hub is reportedly used by Hezbollah to transfer weapons between Iran and Syrian government-backed fighters on some of Syria's toughest front lines.
Rebel sources said that the explosions appeared to have caused a fire in a closed military area of the complex used by Tehran to supply arms to Iranian-backed groups in the conflict.
main fuel tanks in #Damascus international airport ,may have been targeted by an #Israel-i airstrike pic.twitter.com/1zlsgNr02y

— Within Syria (@WithinSyriaBlog) April 27, 2017
Syrian President Bashar al-Assad is backed in the country's brutal civil-war by Russia, Iran and regional Shi'ite militias, including Hezbollah, a close ally of Tehran.
What does Israel say?
An Israeli military spokeswoman declined to comment on the allegations.
However, speaking from the US, Israel's Intelligence Minister, Israel Katz, said:
"I can confirm that the incident in Syria corresponds completely with Israel's policy to act to prevent Iran's smuggling of advanced weapons via Syria to Hezbollah in Iran. Naturally, I don't want to elaborate on this. […] The prime minister has said that whenever we receive intelligence that indicates an intention to transfer advanced weapons to Hezbollah, we will act."
#Israel's intelligence minister Israel Katz all but confirms they were behind the #Damascus strike via Reuters</a> <a href="https://t.co/FfcHnQIHvv">pic.twitter.com/FfcHnQIHvv</a></p>&mdash; Sophie McNeill (Sophiemcneill) April 27, 2017