Remembering Chernobyl, 31 years on
Comments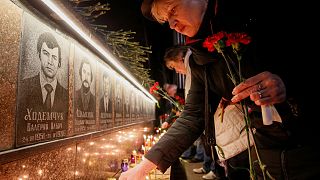 A ceremony has been held in the Ukrainian capital Kyiv to remember the victims of the Chernobyl nuclear disaster, 31 years on.
A powerful explosion and fire sent a contaminated cloud into the sky in what was the worst event of its kind in the world.
Radiation killed thousands of people living close to the plant and those sent in to clean-up.
The world's largest land-based moving structure has been placed over the nuclear disaster site to prevent radiation spewing from the stricken reactor for the next 100 years.
A new drone shot of the #NewSafeConfinement in #Chernobyl. We manage the funds to make the site safe again #Chernobylanniversarypic.twitter.com/ycGZa9vopT

— The

EBRD

(@EBRD) 25 April 2017