"Robbery of the century" in Paraguay
Comments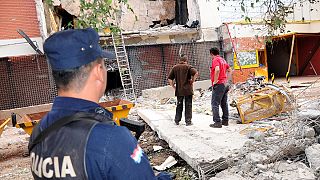 About 60 armed men attacked the headquarters of security company Prosegur in the Paraguayan town of Ciudad del Este close to the Brazilian border.
They used explosives and high-powered rifles to break into the building and, afterwards, to make their escape.
The Prosegur vault can hold up to $40 million in cash, but it is not yet clear how much of that the gang made away with.
In "Spectacular Heist" Dozens Of Heavily-Armed Robbers Steal $40 Million From Paraguay Vault https://t.co/N4Ny4uuv4J#paraguay#Prosegur

— The Daily Sheeple (@TheDailySheeple) April 24, 2017
violent assault
Local people spoke of their terror during the robbery. One, Alejandro Anisim, said:
"In a moment we heard non-stop banging for an hour, during that time there were five grenades, the five were here in the house and we hid up top in my daughter's room, they are not here. I called the police and they told me not to come out, that they (robbers) are inside and we heard shouting in Portuguese in the street. I don't know what they said and then they ran to a parked vehicle on the corner and got in."
The thieves left a trail of destruction as they escaped. Video footage shows the complete destruction of the company's HQ, as well as damage to several neighbouring homes.
Cars were set alight as the criminals fled, and a policeman is said to have died.
official response
Officials have dubbed what happened as "the robbery of the century". Antonio Gamarra, a retired Police Commissioner said:
"This [robbery] is the largest yet and given the [explosive] devices, the number of vehicles used, the number of people and weapons, it is the biggest one."
There has been no suggestion that Prosegur was at fault. Marcelo Saldivar, the Prosecutor, said:
"Clearly this attack had been planned but in theory the company and the protocols were in order."
Brazilian link?
Witnesses have said that the attackers spoke Brazilian, leading to reports that they were members of a gang from just over the notoriously porous border.
Police from both countries are reported to have coordinated efforts in an attempt to apprehend those responsible. Vehicles and weapons have been seized and there have been some reports of exchanged gunfire.