Islamist group claim responsibility for St Petersburg metro attack
Comments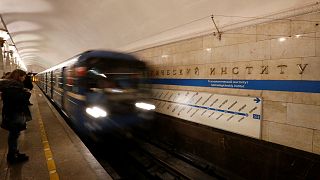 A group called the Imam Shamil Battalion has claimed responsibility for a metro bombing in the Russian city of St. Petersburg that killed 16 people and said the bomber was acting on orders from al Qaeda, according to the SITE monitoring group.
The claim by the little-known group was originally published by the Mauritanian news agency ANI, which is often used by West and North African jihadist groups to release statements.
RIP#Idlib#AlQaeda affiliated 'Katibat Al-Imam Shamil' Claims Responsibility For The 3 April 2017, #StPetersburg Metro Suicide attack. pic.twitter.com/50e6utQwMv

— Brasco_Aad (@Brasco_Aad) April 25, 2017
The statement, posted by SITE on Tuesday, said the bomber, Akbarzhon Jalilov, had acted on instructions from al Qaeda leader Ayman al-Zawahiri, in the April 3 attack on the metro in Russia's second biggest city.
"Following the instructions of Sheikh Ayman al-Zawahiri … the lion Akbarzhon Jalilov, one of the knights of Islam in the Imam Shamil Battalion, carried out a heroic operation … in the city of St. Petersburg, concurrent with the visit to it by the criminal (Russian President Vladimir) Putin," it said.
It said the metro attack was revenge for Russian violence against Muslim countries, citing Syria and Libya as well as the Russian republic of Chechnya.
"To the Russian government, which apparently has not taken a lesson from its defeat in Afghanistan, we say: This operation is only the beginning, and what is to come will make you forget it, Allah permitting," the statement read, implying there would be even more deadly attacks against Russia in the future.
Russian forces have intervened in the Syrian conflict in support of President Bashar al-Assad and are targeting jihadist fighters and others opposed to the Syrian leader.