French voters boot out mainstream parties
Comments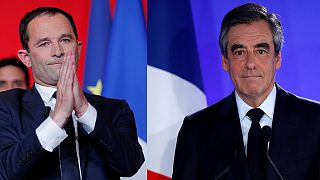 Sunday's vote was a historic drubbing for mainstream parties, especially for the Socialist candidate Benoit Hamon .
Hamon drew less than 7 percent of the vote – the party's worst score in nearly 50 years – as many voters turned to centrist Emmanuel Macron or to far-left maverick Jean-Luc Melenchon.
"I failed to thwart a disaster which had been expected for some months now, perhaps even years. I take full responsibility for this, without blaming the circumstances or the betrayals," Hamon said.
Hamon urged voters to rally behind Macron in the second round. Just like Conservative Francois Fillon, long seen as a shoo-in for the Elysee until he was hit by a string of scandals and ended up third in the race.
"Despite my determination, I did not manage to convince you. The obstacles put in my way were too great, too cruel. The time will come when the truth of this election will be known. For now I take the responsibility. This defeat is mine, and it's mine and mine alone to bear," Fillon told supporters.
It's the first time in France's 59-year-old Fifth Republic that the center-right candidate does not make it to the runoff.