UN - Sarin was used in Syria attack
Comments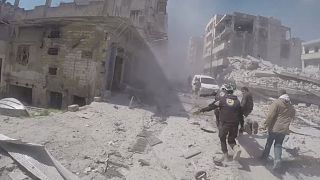 Sarin gas was released during an attack in Syria earlier this month, the chief UN investigator has said.
But Paulo Sergio Pinheiro said most of the victims in the attack were killed with conventional and not chemical weapons during an airstrike on a hospital.
The Syrian government denies US accusations of a chemical attack in Idlib Province which killed dozens of people.
News: AntonioGuterres</a> sat down with <a href="https://twitter.com/JudyWoodruff">JudyWoodruff to talk about Syria, UN response to global humanitarian crises, famine + more. Watch ⤵️ https://t.co/bDsX95nmMs

— United Nations (@UN) April 22, 2017
The UN investigator told the press that more and more civilians were falling victim to military actions, as all sides of the Syrian conflict are vying for military advantages.
While the terrorist group was losing grounds to the east of Aleppo, other armed groups are striving to grab more grounds only to expose local civilians to more life-threatening perils.
Meanwhile the evacuation of civilians and fighters from four besieged towns in Syria has been completed.
Thousands of civilians and pro-government fighters arrived in army-held Aleppo, a war monitor said.
"Syria's war will lead to the collapse of US global dominance" – Euronews exclusive https://t.co/Y0DZ4iWmiqpic.twitter.com/8MHx183Iuu

— euronews (@euronews) April 19, 2017
In exchange, bus-loads of rebels and their relatives were transported to a rebel-held territory.
The Syrian Observatory for Human Rights, a Britain-based war monitor, said the 48-hour suspension was due to rebel demands for the government to free 750 prisoners under the deal.
Rebels reached an agreement on Friday with the government for it to release the first 500 prisoners who would cross into opposition areas as part of the wider deal, a rebel official told Reuters. The other 250 prisoners would be released in coming days, he said.