Youth unemployment a puzzle for next French president
Comments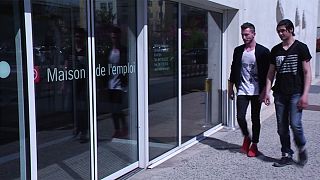 It is at the very heart of the presidential election campaign in France. Nine years on from the financial crisis, unemployment is running at 10 percent, a quarter of those aged between 16-25.
Entry into the job market for young people with little or no formal education or qualifications has been a government priority.
The latest initiative is the Youth Guarantee Scheme.
#garentiejeunesPatrickKanner</a> visite DE <a href="https://twitter.com/fchouat">fchouatFloBellamy</a> <a href="https://twitter.com/DaSilvaCarlos91">DaSilvaCarlos91AggloEvry <a href="https://twitter.com/manuelvalls">manuelvalls CNML_gouv <a href="http://t.co/ccReOjCj1R">pic.twitter.com/ccReOjCj1R</a></p>— Dynamique Emploi (DynamiqueEmploi) April 13, 2015
Saint-Etienne in the South-East of France is a former industrial metropolis and home to 172,000 people.
A quarter of households in the area survive with with the help of social welfare.
Here a government building dedicated to youth employment is where the Youth Guarantee Scheme is in action.
Vanina has part-time work, but she seeks the security of a full time job: "They help us, they take us by the hand, they guide us to work, they look after us."
En working expédition à la Pré Fabrique de l innovation à Saint Étienne avec PlausPoss</a> <a href="https://twitter.com/BurletMelanie">BurletMelanieAnact_</a> <a href="https://t.co/LxT8P5so53">pic.twitter.com/LxT8P5so53</a></p>— Amandine Brugière (abrugiere) April 20, 2017
The programme lasts one year, including four weeks of training. The young people receive an allowance €461 per month in state aid.
Myrianne is looking for work as a ready-to-wear salesperson:''We are required to show evidence of our job searches, it kind of forces me to get up and look for work.''
Mokhtar Boughari is the director of the mission in Saint- Etienne:''We have on average 300 young people entering the centre. The only goal is to find employment and the only criteria to get on the Youth Guarantee Scheme is that one is at a disadvantage.''
Financed from Europe 100,000 young people benefitted from the scheme last year. One in two found a job or are in training.
For Thomas Theyssier , everything happened very quickly: ''After two weeks I had been offered a contract, so I signed a three year contract with state help, I know I have steady work for three years.''
Subsidies, exemptions from social or employer
contributions and training assistance. The state has introduced a raft of measures to help young people find work.
Damien Sauze is a business economist in Lyon, his analysis is mixed: "The current president was elected on a mandate of combating unemployment, particularly youth unemployment. A number of reforms have been introduced to help young people, like subsidised contracts, which have stalled the rise in unemployment among the young. However the problem has not gone away and the new president must confront the issue."
As in the rest of the European Union, SME's are the leading employers in France.
In a metal works of 13 employees in the city the last five recruits are on subsidised contracts.
Because of the low profit margins.
The boss Jacques Ledin believes the scheme is a good thing:
"It is clearly important for companies to help young people obtain a full time contract and even with future contracts they can still train. I find this an interesting programme and I wish we could keep it.''
That is not the case for all SME's one which makes high quality sports socks, occupies a niche market with comfortable margins.
Since 2007 the founder has created 35 jobs and trained his staff in house.
The scheme has downsides and it frustrates, Salvatore Corona the CEO:"The entrepreneur has a vision and is not a manipulator of other people's money. So in my view and from an economic view and from the accountants view the best way to create jobs would be to reduce the burden on SME's. If you can't afford to hire someone for three or four years, then don't hire them because it's dangerous."
In 2017 as much as €2.5bn has been allocated to support the scheme.
A flexible labour market an employment key for the future
Pascal Le Merrer is a member of the Centre de Réflexion France Stratégie attached to Matignon. He teaches economics at the Ecole Nationale Normal in Lyon.
He spoke to euronews reporter Anne Glémarec:"What challenges will the next president face in terms of employment?"
Pascal Le Merrer:"Firstly we must not be mistaken about the causes of unemployment in France.
If globalisation was responsible for unemployment then that would be true for all European countries.
So the competition from China would weigh as much on Germany, the Netherlands or Denmark rather as it does on France. Globalisation has unveiled the weakness of the French industrial model. In the last 15 years we have lost 800,000 industrial jobs.
There is also the myth of the digital economy, robotics will eliminate jobs that can be automated.
Pascal Le Merrer organisateur des Jeco Journées de l'Economie invité de Paul Satis Rediff à 17h50 sur Lyon 1ère pic.twitter.com/K90QiIYzh9

— G. Bouchon Lyon1ère (@Lyon1ere) October 12, 2015
When we consider how many robots are at work in Germany, France has three times less.
If unemployment is to be avoided then, it is essential that those who enter the labour market are flexible and can adapt, through training, throughout their lives."
Anne Glémarec:"What can we expect from the state?"
"We have a real stake in Europe. We should certainly improve elements of the harmonisation of the European labour market, that is quite feasible.
It could be said that as soon as a region suffers a major employment problem, Europe can be seen to act fast. It would be a strong signal to send about the benefits of the European Union and it would be effective. It must be backed by a long term vision.
It is clear that in the digital sector we are not really as active as America or Asia, Europe is in my opinion a little weak. The EU is the first region in the world in terms of economy. However, regarding the technology that will create employment we are lagging behind. So there is a great incentive to create in Europe."