Venezuela protests claim three lives
Comments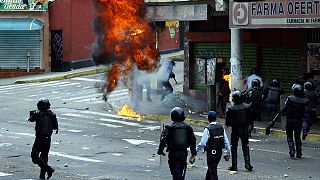 Two Venezuelan students and a National Guard sergeant have died after shots were fired during protests in Venezuela.
If we were millions today, tomorrow we will be more

Opposition leader
Opposition supporters protested in Caracas and other cities in what they called "the mother of all marches," denouncing the unpopular leftist President Nicolas Maduro for eroding democracy and plunging the oil-rich economy into chaos.
Tres personas mueren baleadas en masiva jornada de protestas en Venezuela https://t.co/2iiKhVSbMWpic.twitter.com/Gb6cVs1k2r

— Reuters Venezuela (@ReutersVzla) 20 avril 2017
What happened?
Crowds swelled into the hundreds of thousands. They included Maduro supporters who staged a counter-demonstration in the capital at Maduro's behest.
Clashes were reported across the country during the most sustained protests since 2014.
Slideshow: Mother of all marches in Venezuela https://t.co/dvWQKn7qLgpic.twitter.com/mShqfTrjBp

— Reuters Venezuela (@ReutersVzla) 19 avril 2017
Muere abaleada estudiante universitaria durante protestas antigubernamentales en #Venezuela: familiares y testigos pic.twitter.com/xQVRaQzZNJ

— Reuters Venezuela (@ReutersVzla) 19 avril 2017
How many have died in total??
The latest deaths mean eight people have now been killed during protests in the South American country this month.
The opposition blames the deaths on security forces and alleged paramilitary groups.
Activists say more than 400 people were arrested during protests on Wednesday.
Venezuelan protests against government leave two students dead https://t.co/YAXPucWp0Vpic.twitter.com/jZlPPWlsvq

— Reuters Venezuela (@ReutersVzla) 19 avril 2017
"Colectivos"
The opposition attributed the two student deaths to groups known as "colectivos".
They are armed government supporters who are frequently accused of involvement in confrontations during protests.
They call themselves "community groups" . However, the opposition accuses them of being violent paramilitary wings of the governing Socialist Party.
What is the background to the march?
It followed a fortnight of violent protests. They were triggered by a Supreme Court decision in March to assume the powers of the opposition-led Congress.
The decision was quickly reversed after international pressure.
Nonetheless, the court's move has fuelled long-simmering anger over the governing Socialist Party's handling of the economy.
There are severe shortages of food and medicines. Inflation is in triple digits in the OPEC member country.
The opposition is demanding early elections, the freeing of jailed politicians, humanitarian aid and respect for the autonomy of the opposition-led legislature.
'Mother of all marches' turns deadly in Venezuela: https://t.co/fwTNyMofKf

— Reuters Venezuela (@ReutersVzla) 19 avril 2017
What does Maduro say?
That the protests are nothing more than opposition efforts to foment a coup to bring an end to socialism in Venezuela.
On Wednesday, he threatened Venezuela's National Assembly leader Julio Borges with arrest.
What do the opposition say??
That Maduro has morphed into a dictator. His government has been accused of using armed civilians to spread violence and fear.
The opposition have called for another protest on Thursday, raising the spectre of prolonged disruption in the country.
"Same place, same time," said opposition leader Henrique Capriles on Wednesday. "If we were millions today, tomorrow we will be more."
Fears of a coup
Wednesday's rival marches drew parallels to the clashes between pro and anti-government protesters in 2002. They triggered a brief coup against the late President Hugo Chavez, Maduro's predecessor and mentor.
Maduro says the opposition is trying to relive the 2002 coup.
Analysts say there is less likelihood of a coup against Maduro because Chavez launched a broad purge of the armed forces following his brief ouster.
Venezuelan protests against government leave two students dead https://t.co/5yEoy0GaZGpic.twitter.com/UgyqFMhaQG

— Reuters Venezuela (@ReutersVzla) 19 avril 2017