Vatican's cricketers prepare for interfaith tournament
Comments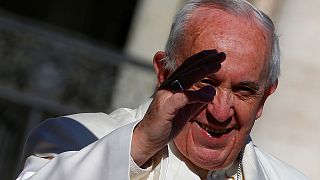 The Vatican's cricket team is preparing to play in an inter-faith tournament in Portugal in a bid to build bridges between religions.
The St Peter's Cricket Club is in Fatima to take part in the competition, just weeks ahead of Pope Francis' visit to the town's world famous Marian shrine.
The team, set up to build relations with other Christian Churches and faith communities, is made up of priests and seminarians studying for the priesthood in Rome.
Vatican cricket team plays all-Muslim side in interfaith relations win https://t.co/Azbi9YJmiW

— guasayan (@guasayan5) April 9, 2017
"We have invited the Vatican club so it can enjoy the centenary, it's an honour for us," said Glen Evans, president of the Miranda do Corvo cricket team hosting the event.
"It's a way of thanking the residents who encourage the development of cricket in the country," added Evans.
St. Peter's wear white and gold uniforms like the Vatican football team and can call upon players from traditional cricketing powers India, Pakistan and Sri Lanka.
The Pope is due to visit Fatima next month to mark the 100th anniversary of the Marian apparitions there.
The Vatican has announced that two of the shepherd children, believed to have seen the vision of Madonna a century ago, will be made saints.
#News Interfaith harmony: Vatican #cricket team tour #Portugal before Pope visit https://t.co/29oZHBMn0q

— هاشمی (@wasifmehmood) April 20, 2017
Vatican cricket team heads overseas for interfaith tournament https://t.co/Rodxjt6IsUpic.twitter.com/galm9GU3iv

— The Local Italy (@TheLocalItaly) April 20, 2017
Millions of faithful each year visit the Fatima shrine, one of the most famous in Christianity.
The canonisation of Francisco Marto and his sister Jacinta Marto will take place on May 13.
Francisco and Jacinta died while they were still children several years after the visions.
A third visionary, Lucia Dos Santos, became a nun and died in 2005 at the age of 97.
The Catholic Church posthumously confers sainthood on people considered so holy during their lives that they are now believed to be with God and can intercede with him to perform miracles.