Israel rejects negotiations with jailed Palestinian hunger strikers
Comments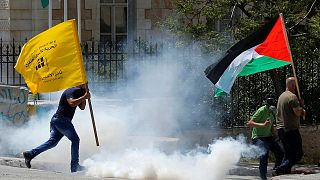 Israel has said it will not negotiate with hundreds of Palestinian prisoners who began a hunger strike to improve conditions.
The Public Security Minister announced that field hospitals would be set up to treat those requiring medical aid during the strike, including force-feedings, saying that he would not negotiate with what he called 'brutal murderers', while Foreign Minister Emmauel Nahshon took a softer line.
"We are already talking to those prisoners and there is absolutely no reason for a hunger strike, we have a dialogue with those prisoners. If they want to have better conditions they can submit their demands or their requests and the Israeli authorities will decide whether something needs to be changed or not," explained Nahshon.
The prisoners say they are striking for more contact with relatives, and an end to detention without trial.
"What the prisoners are asking for is not too much, they are asking for the minimum of their rights that are offered in all other prisons in the Arab world or in foreign countries. When they ask for the basic rights like public telephone and regular visits by their families, these are legitimate rights," said Omar Yaghmour, the brother of a Palestinian prisoner on hunger strike.
If continued the strike, being led by jailed Palestinian leader Marwan Barghouti, would be the largest in recent years. It threatens to revive Israeli-Palestinian tensions amid attempts to revive stalled peace talks.