Iran marks national Army Day with parades
Comments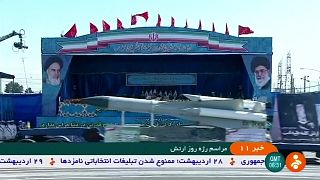 Parades have been held in Iran to mark annual Army Day.
Trucks carrying missiles drove past a podium in Tehran draped with images of President Hassan Rouhani. There was an air display by fighter jets and bombers.
Soldiers saluted the president and military commanders as they marched past.
#Iran Marks National Army Day with Military Parades https://t.co/PvfRoSjmTKpic.twitter.com/JL0MasGEyP

— Iran Front Page (@IranFrontPage) 18 avril 2017
Iran president addressing army day ceremony in Tehran https://t.co/eZXn25rCrF

— Press TV (@PressTV) 18 avril 2017
Addressing the parade, President Hassan Rouhani assured regional and world powers that Iran's military power is merely a deterrent and only serves a defensive purpose.
Why does Iran have two armies?
Iran has a regular army, which operates as a national defence force.
It also has the Islamic Revolutionary Guard Corps that was created after the Revolution. Its aim is to protect the Islamic Republic against both internal and external adversaries.
The army has the biggest ground force in Iran.
Lawmakers in Iran approved plans in January to expand military spending to five percent of the budget.
This is reportedly to include developing the country's long-range missile programme which US President Donald Trump has pledged to halt.