3,000-year-old judge discovered in Egypt
Comments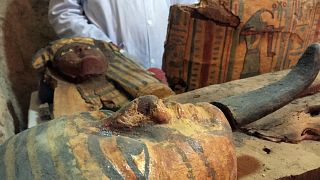 Egyptian archaeologists have uncovered a tomb near an ancient court room, estimated to be over 3,000 years old.
The find was made near the Nile city Luxor, in the east of the country. The archaeologists says the remains found in the Dra Abu-el Naga necropolis belong to Userhat, a judge who lived during the New Kingdom era.
The tomb has been discovered close to the Valley of the Kings, which was made famous with the 1917 discovery of King Tutankhamun and subsequent rumours of a 'curse' on those who disturb the tombs of pharaohs and important members of ancient Egyptian society.
No such curses or rumours of suspicious inscriptions have been reported on Userhat's tomb.
The Egyptian Ministry for Antiquities said the tomb is a typical example of that of a "nobleman", and consists of an "open court leading into a rectangular hall, a corridor and an inner chamber".
Along with the well preserved wooden coffin, the archaeological team uncovered several Ushabti, or funeral figurines, and wooden masks.
The burial room itself is located at the bottom of a nine metre deep shaft. Another room was uncovered at the bottom of this shaft, which archaeologists are continuing to work on and excavate the treasures and tombs it holds.
Third find in 2017
This may be a major discovery, but it is not the only such find this year.
In fact, it's the third large scale discovery of ancient artefacts in 2017.
In January, a team from the Swedish Lund University uncovered at least 12 burial sites near Aswan, in the south of the country.
Like the discovery near Luxor, these tombs are thought to date back to the New Kingdom era.
But these were not kings or pharaohs. Head of the team, Maria Nilsson, said several bodies seemed to show evidence of malnutrition and even broken bones from years of hard labour.
And as recently as March 2017, a giant statue of King Psamtek I (not Pharaoh Ramses II as first thought) was unearthed in a Cairo suburb.
An Egyptian-German team found the eight-metre statue submerged in water, and say it is proof of a huge temple that once stood on the same ground. The gates of the temple, located in the ancient capital of Heliopolis, are said to have stood at least 15-metres high.
Ancient cure to a modern problem?
Egyptian tourism has been in a slump since the 2011 uprising to overthrow President Hosni Mubarak. And with ISIL claiming responsibility for bombs targeting Egypt's ancient Coptic Christian community, tourists have been put off visiting even further.
But the Tourism Development Agency are hopeful that these discoveries, and more like them, will encourage tourists to return.
Tomb wall reliefs depict gifts and offerings which would have been presented to Userhat and his wife, Mutnefret, in the afterlife #historypic.twitter.com/4Q0i1pj1ZV

— GroovyHistorian (@GroovyHistorian) April 18, 2017
The head of that department, Hisham El Demery, said "these discoveries are positive news from Egypt's tourism industry, which is something we all really need".