Syrian army retakes key town of Soran
Comments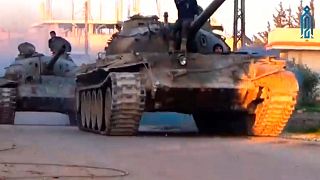 Backed by Russian air strikes, the Syrian army has recaptured the strategic town of Soran in the central part of western Syria.
Most of the rebels have retreated from the town after troops stormed it, following dozens of strikes believed to be from Russian jets in the early hours of the morning.
Soran is a key point on the army's route to the city of Hama.
The fighting comes after more than 120 Syrians were killed in a bombing targeting a convoy of evacuees.
The explosion hit buses carrying residents from the northern towns of al-Foua and Kefraya as they waited at a transit point in rebel-held Rashidin, west of Aleppo.
At least 68 children were among those killed in the blast on Saturday. Footage uploaded to social media purported to show some of the children injured in the blast being treated at a hospital in Idlib.
Thousands of people have been evacuated from besieged areas in recent months under deals between the regime and rebels, joining the more than 6 million internally displaced people who live from day to day with the threat of death and little hope of returning to the place they called home.