Odd against them as Bayern Munich prepare to play Real Madrid
Comments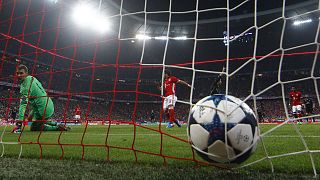 Bayern Munich take on defending European champions Real Madrid on Tuesday evening.
And Real will face Bayern without Gareth Bale when they meet in the Champions League quarter-final second leg.
He sustained an ankle injury whilst playing in the first leg last week.
Training in Madrid #RMAFCBpic.twitter.com/KfmXJSHPvV

— Bayern & Germany (@iMiaSanMia) April 17, 2017
Bayern has lost eight out of the last ten away games against Real, but coach Zinedine Zidane says he's not going to underestimate them.
"The first leg is done, we have the second leg and we know the difficulties we will have because Bayern, if they play home or away, don't change a lot. It's a team that gives you trouble all the way to the final whistle," he said.
But Real Madrid haven't lost at home for 12 consecutive matches.
And out of the twelve matches the two teams have played against each other, Bayern have won just two.
Bayern will have talented Poland striker Robert Lewandowski but the data remains stacked against them.
And then there's the phenomenon that is Portuguese striker Cristiano Ronaldo.
Bayern Munich must not lose sight of Cristiano Ronaldo – Ancelotti https://t.co/60OOGKx3BOpic.twitter.com/4AotgwNhWq

— dbsportsonline (@dbsportsonline) April 17, 2017
He scored his hundredth goal in Europe the last time Real played Madrid.
And now he's looking to get another century, this time in the Champions League – and he has three goals to go.