South Korea: North's failed missile test 'threatens whole world'
Comments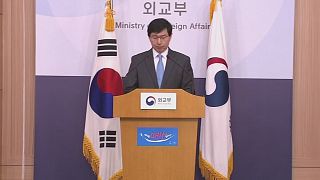 South Korea reacted to the North's failed missile launch on Sunday by threatening punitive action if such action is repeated, or leads to further provocation such as a nuclear test or a long-range missile launch.
The test came despite warnings from Pyongyang's ally China, and took place a day after North Korea showed off apparently new ballistic missiles at a military parade held in the capital to mark the anniversary of the state founder's birth.
"North Korea showing a variety of offensive missiles at yesterday's military parade and daring to fire a ballistic missile today is a show of force that threatens the whole world" South Korean Foreign Ministry spokesman Cho June-Hyuck said at a news briefing on Sunday.
China has been watching events in Pyongyang nervously. It has spoken out against the tests, has supported UN sanctions, and on Friday called for talks and sought Russia's help in calming the situation.
But in Dandong, a city bordering North Korea, the atmosphere seemed relaxed despite the tension between the two countries.
Chinese tourists continued to take boat trips for a close-up view of the secretive country on the other side of the river.
"There is nothing to be afraid of. This is their matter and it has nothing to do with us," said one man.
Another tourist was more worried. "For North Korea, for the situation on the Korean peninsula, for China, the US, Russia, and South Korea, this isn't a good thing at all," he said.
A North Korean soldier sits on a fence near Sinuiju, opposite the Chinese border city of Dandong. johaynz</a> <a href="https://t.co/4Cb74yNGcm">pic.twitter.com/4Cb74yNGcm</a></p>— Frédérique Geffard (fgeffardAFP) April 15, 2017
A glimpse of the Friendship Bridge between the two countries may be as close as many Chinese get to their neighbour.
Reports say many travel operators have halted trips to North Korea – although Beijing says trade with its neighbour has increased.
According to the Hong Kong-based South China Morning Post, many travel operators including the main online website have halted trips to North Korea.
But despite its adherence to economic sanctions against North Korea, Beijing said last week that trade this year had increased with its neighbour.