Security tightened in Rome ahead of Pope's Easter message
Comments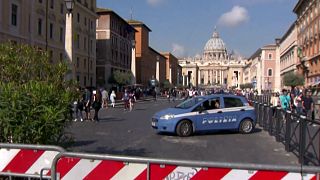 Security has been increased all over Rome for Easter following recent international terror attacks.
Pope Francis is due to follow Mass on Saturday with an Easter message on Sunday, to thousands of Catholic followers.
Anyone entering St Peter's Square will undergo airport-style screening, while bomb squads have been deployed to clear all areas where events are taking place.
Despite the measures the atmosphere has been relaxed. Several visitors to the square on Saturday said that they felt safe.
The measures extend far beyond St Peter's Basilica and Square, with all areas of the city fitted with new CCTV cameras.
Security in Rome's suburbs has been tightened too, while in some other European capitals checks are being carried out on people entering cathedrals for Easter.
Security increased around Rome and especially at the #Vatican as pilgrims flock for Easter services. LinzieJanis</a> <a href="https://twitter.com/GMA">GMA this morning. pic.twitter.com/hFV11OIbhS

— ClarkBentson (@ClarkBentson) April 15, 2017