Kremlin critic Navalny opens presidential campaign office
Comments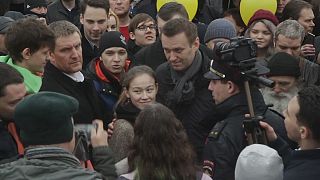 Russian opposition leader Alexei Navalny has opened his presidential election campaign office in Chelyabinsk.
It is just one of 77 regional campaign offices he plans to open across the country.
The Kremlin critic plans to take on Vladimir Putin in next year's leadership race, however a previous conviction on corruption charges may prevent his bid.
Navalny was the driving force behind anti-corruption protests across Russian cities last month.
He was fined and sentenced to 15 days in jail for breaching rules about organised protests after going ahead with the Moscow rally without official permission.
The demos were the largest in Russia since mass protests in 2011 to 2013.