Student lynched over "blasphemy"
Comments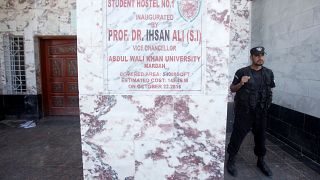 A student at Abdul Wali Khan University, in Pakistan's Khyber Pakhtunkhwa province, has been attacked and brutally murdered by a mob after reportedly being accused of blasphemy.
Mashal Khan, a journalism student, was set upon on by a mob of his classmates on April 13 at the Garden Campus of Abdul Wali Khan University.
According to eyewitnesses, the mob kicked in the door of Khan's university hostel room and dragged him outside where they carried on with their attack. The beating was filmed and shared on social media.
Khan's body was stripped and his head beaten with planks and stones until his skull caved in while others looked on.
Police arrested 45 people in connection with Khan's death. Another student is said to have been injured during the incident.
According to police, Khan was not the subject of a blasphemy investigation at the time of his attack, but they said Khan had been accused by classmates of running social media pages which allegedly "published blasphemous content."
Police has said they have found no evidence to substantiate the accusation.
Identifying as a humanist, Khan often posted on social media voicing support for transgendered people and other victims of discrimination.
Though police have not commented on what those who attacked Khan took offence to, his liberal views on the LGBT community may have prompted the killing.
Speaking to Reuters, those who knew Khan said he was devoted to Islam but was intellectually curious.
"Whatever he had to say, he would say it openly, but he didn't understand the environment he was living in," said one of Khan's university teachers, who spoke to Reuters on condition of anonymity for fear of retribution.
The day before Khan's attack, says Reuters, there was a heated debate about religion among students, which led to some accusing Khan of blasphemy.
In Pakistan blasphemy can be a capital offence and in March, Prime Minister Nawaz Sharif ordered the removal of blasphemous content on the Internet.
Anyone found publishing such content he said at the time would face "strict punishment under the law."
At least 65 people have been murdered in Pakistan over allegations of blasphemy since 1990. Dozens more are in prison, convicted of the crime and on death row.