McCain and Gabriel urge Kosovo and Serbia to break impasse
Comments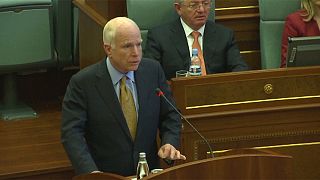 A day after welcoming Montenegro into the NATO alliance influential US senator John McCain has been in Kosovo.
McCain is the Republican chair of the Senate Armed Service Committee and a notable hawk in relations with Russia. He is touring the Balkans to firm up support for the EU-US reconciliation process, and NATO.
"My message to you is the same as the one I delivered to Serbian Prime Minister Vucic earlier this week. Advancing the EU-facilitated, US-supported dialogue is in the interest of Kosovars and Serbs alike," he said.
Kosovo declared independence from Serbia in 2008, and is recognised by 114 nations, but not Serbia. Since December relations between the two have been especially tense.
McCain's message was also reinforced by the Germans, whose Foreign Minister Sigmar Gabriel met with Kosovo's Prime Minister Isa Mustafa.
Gabriel urged Pristina to finalise a border deal with Montenegro and resume dialogue with Belgrade, saying no dialogue with Serbia would scupper any chance of EU membership.