PKK says it was behind Diyarbakir bomb blast
Comments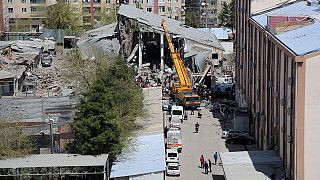 The PKK has said it was behind a bomb attack on a police compound in the southeastern Turkish city of Diyarbakir on Tuesday.
Three people were killed, including a police officer.
The Kurdish separatist group said it planted more than 2.5 tonnes of explosives in a tunnel under the complex. The huge blast caused part of the building's roof to collapse.
Five people suspected of having links to the attack have been arrested, while another 172 have been detained.
Speaking on the pro-government Haberturk TV channel, Turkey's interior minister Suleyman Soylu said: ''We initially thought someone had put something (explosives) inside with the help of an employee but this was carried out by digging a tunnel from the outside.''
The attack came ahead of Sunday's key referendum which could give President Recep Tayyip Erdogan sweeping new powers.
Turkey's south-east has been rocked by a wave of attacks since a fragile truce between the PKK and Turkish security forces collapsed in 2015.
The group is designated a terrorist organisation by Turkey, the European Union and the United States.