South Africa: Zuma not stressed by protests calling for him to quit
Comments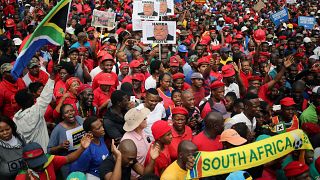 South Africa's president Jacob Zuma has said he is not stressed by calls for him to quit, hours after more than 30,000 people marched in the country's capital Pretoria.
Zuma who turned 75 on Wednesday stoked a wave of public anger following a much criticised cabinet reshuffle.
The president has accused some of the protesters of having racist motives.
Thousands of people took to the streets after Zuma sacked his finance minister Pravin Gordhan.
That move saw two credit rating agencies downgrade South Africa to junk status. Despite the backlash the ruling ANC has so far stood by Zuma.