Lauded Russian poet Yevtushenko buried in Moscow
Comments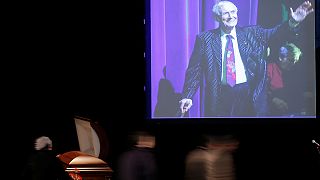 The much lauded Soviet-era writer and poet Yevgeny Yevtushenko has been laid to rest in Moscow.
Had lunch at CDL Central house of Writers in Moscow. Beautiful establishment witch was a Mason's lodge pic.twitter.com/MrzJXBiArH

— Telemacus (@msiah) July 28, 2016
Mourners paid their respects at a civil ceremony at the 'Writers House' in the Russian capital.
Soviet poet Yevgeny Yevtushenko, best known for his works denouncing war and anti-Semitism, dictators and borders died yesterday at 83. pic.twitter.com/pG5E3sp13w

— Soviet Visuals (@sovietvisuals) April 2, 2017
Born in 1932 Yevtushenko published 150 collections of poems.
Among the mourners Natalia Solzhenitsyn widow of writer Aleksandr Solzhenitsyn:"One of the great things about Yevtushenko, apart from his literature, is he gave us great lessons in citizenship, and without citizens a country does not exist."
The poet died in Oklahoma in the US at the age of 85 where he was giving lectures at the University of Tulsa.
Celebrated Russian poet Yevtushenko buried at cemetery near Moscow https://t.co/qZxFXOBvJkpic.twitter.com/Y5VkgHXkHP

— Karl E (@therussophile) April 11, 2017
His work is admired down the generations:"I'm grateful for his art, for everything that he'd done for us and our children, grandchildren and great grandchildren. We read him, we love him, we honour him," said one fan.
For another it was his strength of character:
"Yevgeny Yevtushenko is a brilliant, kind person. Everyone knows what kind of poet and writer he was, because he was great, but he was also an absolutely independent man and he always stated his opinion no matter who it was against, he would stand by his opinion."
Yevtushenko was never a dissident, but his distaste of political repression and purges is evident in his work.
He is buried alongside another great Russian poet Boris Leonidovich Pasternak.