Ivanka Trump influenced Syria bombing, brother suggests
Comments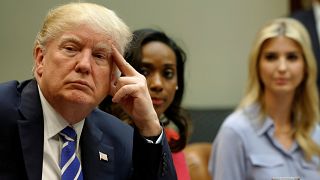 Donald Trump's decision to launch air strikes on Syria was influenced by his "heartbroken" daughter, Ivanka, one of the President's sons has suggested.
Eric Trump also said the bombing, which has strained ties with Russia, also proved that his father will not be "pushed around" by the Kremlin.
US missiles targeted a Syrian airbase in response to the alleged use of chemical weapons in the rebel-held town of Khan Sheikhoun in Syria last week.
US intelligence says the deadly attack was carried out by Syrian leader Bashar al Assad's government.
Donald Trump's action in Syria proves he is not in league with Putin, says his son Eric https://t.co/vZUoDZEgmzpic.twitter.com/68OTsYziNl

— Telegraph News (@TelegraphNews) April 10, 2017
The 33-year-old, who is now helping to run his father's property business, said his sister was "outraged and heartbroken" by the chemical deaths.
He told the UK's The Daily Telegraph: "These guys are savages and I'm glad (President Trump) responded the way he responded.
"Ivanka is a mother of three kids and she has influence. I'm sure she said 'listen, this is horrible stuff.'
"My father will act in times like that."
The times we are living in call for difficult decisions – Proud of my father for refusing to accept these horrendous crimes against humanity https://t.co/yV0oJuC9dE

— Ivanka Trump (@IvankaTrump) April 7, 2017
Russia has vowed to strengthen Syria's anti-aircraft defences following Washington's most direct action in Syria since its civil war began.
President Vladimir Putin said the missile strikes broke international law and have seriously hurt US-Russia relations, news agencies cited the Kremlin as saying.
Tonight I ordered a targeted military strike…… pic.twitter.com/3nUzrdiGzX

— President Trump (@POTUS) April 7, 2017
Eric Trump said: "If there was anything that Syria did, it was to validate the fact that there is no Russia tie.
"(President Trump) is not a guy who gets intimidated.
"I can tell you he is tough and he won't be pushed around. The cards will shake out the way they do but he's tough."
Meanwhile, the G7 group of the world's most industrialised nations has failed to reach agreement on potential fresh sanctions against Russia and Syria.