Poland marks anniversary of presidential plane crash
Comments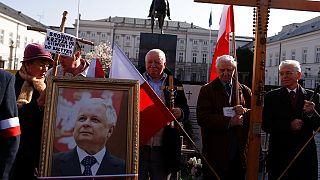 Poland has marked the seventh anniversary of the plane crash that claimed the life of President Lech Kaczynski, his wife and 94 others.
April 10, 2010 Polish President Lech Kaczyński died tragically with his wife and 94 other Polish elites in the plane crash TU-154M pic.twitter.com/JoDNB2xup8

— Marek Sypek (@sypekmarek) April 10, 2017
The deceased's twin brother Jaroslaw Kaczynski led the commemorations.
A new crash investigation commission has said that the plane broke up in mid-air based on conversations between pilots and Russian air traffic control.
Poland asks prosecutor to probe Tusk over the 2010 plane crash that killed then-President Lech Kaczyński https://t.co/qcwz1bf7I3pic.twitter.com/ijiHVFJPgz

—

POLITICO

Europe (@POLITICOEurope) March 21, 2017
Jaroslaw Kaczynski blames Russia for the crash, which has refused to return the wreckage or the black boxes.
Late Polish president Lech #Kaczynski's body to be exhumed for inquiry over 2010 plane crash … pic.twitter.com/7XZ9PB6dXw

— Narrendra Malhotra (@NarrendraM) October 16, 2016
President Kaczynski and a Polish delegation had been en route to Russia to pay tribute to some 22,000 Polish prisoners of war, killed in the Katyn forest by Soviet authorities in World War II.