Hungarians march in support of Soros-backed university
Comments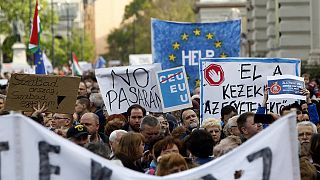 An estimated 70,000 Hungarians turned out on Sunday calling for free education and demanding that the government withdraws legislation which could force out one of the country's top international universities.
New government-backed rules mean the Central European University (CEU) would be unable to award diplomas because it is registered in the US.
The university was founded by Hungarian-born American financier George Soros.
In Hungary, 70,000 rally in support of a university founded by American billionaire George Soros https://t.co/QK5O71eQmcpic.twitter.com/jvvPbmiB8q

— The Boston Globe (@BostonGlobe) April 9, 2017
Protest organiser and CEU student Daniel Berg:
"I think this protest is more about general principles than about one university. I think this is about the freedom of knowledge, the freedom of thinking, the free expression, so it is a quite complex thing and I think this is why so many people came here."
"I think that the frustration of the people against this government has increased so much, that many are also here among those who doesn't even know what CEU is," said an ex-CEU student.
The legislation has been rushed through parliament and now awaits the signature of the country's president to become law.
But critics claim it's part of a wider government crackdown on dissent with right-wing Prime Minister Viktor Orban opposing the liberal outlook of both the CEU and many non-governmental organisations.
Euronews correspondent Andrea Hajagos said she had rarely seen so many people supporting a protest rally on the streets of Budapest.