Russia 'increases naval presence off Syrian coast'
Comments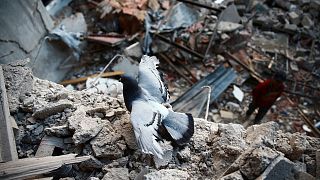 Russia has reportedly sent a warship armed with Kalibr cruise missiles to join a pre-existing battle group off the coast of Syria.
It follows the launch by Washington of dozens of Tomahawk cruise missiles at Shayrat air base, near the Syrian city of Homs.
On Saturday (April 8), UK Foreign Secretary Boris Johnson cancelled a visit to Moscow that had been scheduled for April 10, citing events in Syria as the reason for not making the journey.
Moscow's manoeuvre comes just days before US Secretary of State Rex Tillerson is due to visit Russia's Foreign Minister Serguei Lavrov in the capital.
On Saturday, the pair spoke by telephone about the escalating situation in Syria, according to a Russian foreign ministry statement. Tillerson's visit is still said to be on the agenda.
Lavrov reportedly said that "an attack on a country whose government fights terrorism only plays into the hands of extremists, creates additional threats to regional and global security."
US President Donald Trump said the missile strikes on the airfield were in response to a deadly chemical attack in
Idlib province, which he blames on the Syrian regime. His Syrian counterpart Bashar al-Assad strongly denies the accusation.
Lavrov is also said to have refuted the allegation during the call with Tillerson, saying the assertions do not correspond to reality.
Some 300km further south of Idlib, airstrikes are said to have struck the rebel-held town of Douma on Thursday. Syrian civil defence group the White Helmets has released images purporting to show the aftermath of the strikes.
According to UK-based war monitor The Syrian Observatory for Human Rights, at least one person was killed and 10 wounded.