A week to go: Turkish expatriates cast referendum vote
Comments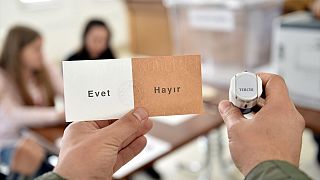 With a week to go till Turkey's referendum on April 16 on a new political system that would give the president sweeping new powers, the country's expatriates have been continuing to vote in advance in a process that began last month.
Turkish residents in Greece turned up at the consulate in Athens to cast their ballot on Saturday.
In Iraq too the process has been underway, at the embassy in Baghdad and also at Erbil in the north.
Nearly 3,000 Turks are eligible to vote there – a fraction of the three million expatriates registered altogether, with nearly half of them in Germany.
Turkey's relations with various European countries have recently been strained after Turkish ministers were banned from addressing campaign rallies abroad.
Erdoğan supporters vote in Ottoman dress in France – Turkish Minute https://t.co/IzFnOEZo7opic.twitter.com/7NOAC8cHTa

— Turkish Minute (@TurkishMinuteTM) April 8, 2017
Recep Tayyip Erdogan became president in 2014 after more than a decade as prime minister – a post set to be abolished if a "yes" vote prevails.
The constitutional overhaul the president is seeking would also allow him to retain ties to a political party, potentially allowing him to resume his leadership of the AKP.
The president would also be able to dismiss parliament and declare a state of emergency, pass certain laws by decree and appoint ministers.
Erdogan's supporters argue the plans guarantee stability at a time of turmoil, with Turkey's security threatened by the wars in neighbouring Syria and Iraq – as well as a series of attacks by Islamist and Kurdish militants.
Critics say more presidential powers would be dangerous, especially given Erdogan's increasingly authoritarian tendencies.
A failed coup attempt last summer, which cost the lives of nearly 250 people and injured more than 2,000, was followed by a crackdown on people suspected of the movement led by exiled cleric Fethullah Gulen. It led to the arrests and dismissal of tens of thousands of judges, military officers, journalists and academics. The clampdown is reported to be continuing with more detention warrants issued.
Referendum and diplomatic row: Dutch Turks have their say https://t.co/aAcWPvfdlgpic.twitter.com/XwgYo9XG0G

— euronews (@euronews) April 8, 2017