EU leaders back US strikes in Syria, urging more diplomacy
Comments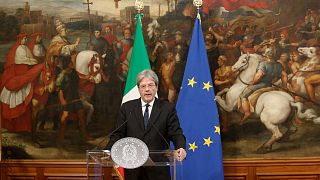 European leaders gave a cautious welcome to Thursday's US missile strikes on a Syrian military airbase.
In Paris President Hollande confirmed French backing, saying France had sought similar action in 2013 after a previous chemical attack.
The French government says it was informed in advance by Washington, and Russia should use the "warning" to push for a political solution.
President Assad bore "full responsibility for this development," Hollande said in a joint statement with Germany from the Elysée after speaking with Chancellor Angela Merkel.
"I believe this operation was a response which must now be followed up at an international level within the United Nations if possible, so we can go all the way with sanctions against Bashar al-Assad, and prevent this regime from using chemical weapons again to crush its own people," François Hollande added in an announcement to the press.
FM sigmargabriel</a> on US air strikes: After failure of <a href="https://twitter.com/UN">UN Security Council, attack on military structures understandable.

— GermanForeignOffice (@GermanyDiplo) April 7, 2017
The German foreign ministry tweeted that Foreign Minister Sigmar Gabriel believed the attack on military structures was "understandable" after the "failure" of the UN Security Council.
Italy has said it gave its backing to the US strikes.
The Prime Minister Paolo Gentiloni said that after speaking to the French and German leaders, all agreed the conflict must be resolved by "negotiation that includes the forces of the regime and the opposition, overseen by the UN, with a decisive and constructive role for Russia".
"Last night's military action should not block, but accelerate the political negotiations in order to achieve a long term solution, which is the only serious antidote against the threat of terrorism," Gentiloni added at a news conference.
"Efforts to stem the spiral of violence in #Syria and work towards a lasting peace should be redoubled." JunckerEU</a>: <a href="https://t.co/WfaAqrWkYW">https://t.co/WfaAqrWkYW</a> <a href="https://t.co/wqswYWaJSz">pic.twitter.com/wqswYWaJSz</a></p>&mdash; European Commission (EU_Commission) April 7, 2017
US strikes show needed resolve against barbaric chemical attacks. EU will work with the US to end brutality in Syria.

— Donald Tusk (@eucopresident) April 7, 2017
Two top EU officials offered cautious endorsement of US President Donald Trump's missile strikes.
Donald Tusk, the President of the European Council representing EU leaders, said the strikes showed the resolve that was needed against barbaric chemical attacks.
European Commission President Jean-Claude Juncker said he understood efforts to deter more chemical attacks.
"The US has informed the EU that these strikes were limited and seek to deter further chemical weapons atrocities," he said in a statement. "The repeated use of such weapons must be answered."
For All Views on the Syria conflict, click here