Genoa G8: police admits brutality, compensation agreed
Comments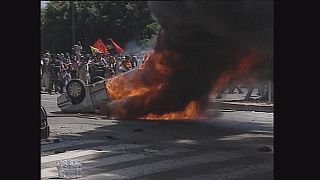 Some 16 years after anti-globalisation protests broke out in Genoa, Italy has admitted its responsibility for police brutality and has agreed to pay 45,000 euros each to six people for moral and material damages.
The case, which was heard in the European Court of Human Rights, centred around clashes at the Bolzaneto barracks during the 2001 G8 summit.
Protesters who were rounded up by police said they were spat at, verbally and physically humiliated and threatened with rape while being held.
It was the second of two widely-publicised cases of alleged police brutality. More than a hundred people were wounded in the first incident, which took place at the Diaz school. It left British journalist Mark Covell in a coma with rib and spinal injuries.
ANSA news agency reports officers planted two Molotov cocktails, hammers, knives and other evidence at the site to justify a raid.
Numerous convictions have since been made in connection with the two episodes.