Hungary defends border 'container camps' for migrants
Comments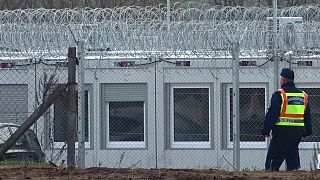 Hungary has defended its decision to detain migrants in shipping containers on the border with Serbia.
Under a new law, all asylum seekers aged over 14 have to wait there while their applications are processed.
The European Court of Human Rights has condemned the detentions but Hungary plans to appeal the ruling, as the border camps expand.
Visiting one of these camps in Tompa on Thursday, Interior Minister Sandor Pinter stressed it was neither a detention centre nor a prison, as the migrants can go "wherever they want…except in the EU."
"You cannot say it's detention. For example, if I want to protect my home, the people out on the street can still move freely… but I do not want them to come into my home," Pinter said.
It is now legal in Hungary to detain refugees indefinitely in shipping containers
(from VICE News Tonight on HBO</a> Mon-Thurs at 7:30) <a href="https://t.co/d93JJSdgwP">pic.twitter.com/d93JJSdgwP</a></p>— VICE News (vicenews) March 29, 2017
Human rights groups say the new camps aim to make it even harder to seek asylum in Hungary. Only a handful of migrants a day can present their asylum applications at these camps, built alongside razor-wire fences on the Serbian and Croatian borders.
The UN's refugee agency said the automatic detentions violate Hungary's obligations under international law, and the European Commission is looking into whether the new law complies with EU rules.
During the visit, Pinter also said a police officer has been fired for abusing migrants, following reports by human rights advocates of cases of ill-treatment. He did not provide details of the dismissal.
In March, the medical charity Doctors Without Borders (MSF), posted images on Twitter of bruised people who had allegedly been battered by Hungarian border police.
#Hungary's new bill allows the detention of asylum seekers & push backs to #Serbia. We've seen push backs before so far they look like this: pic.twitter.com/VW0G8lXL1A

—

MSF

Sea (@MSF_Sea) March 7, 2017