All sides call for recount in Ecuador's presidential election
Comments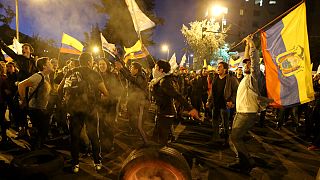 In a surprise move, Ecuador's ruling party, Country Alliance, has called for a recount of the votes cast in the weekend's presidential election. Its candidate, Lenin Moreno, had won the election by the narrowest margin, with 51.16% of the vote.
Disability rights activist Lenin Moreno elected President of #Ecuador! https://t.co/IQsUC2o6rO

— Mushegh (@Mushegh1) April 6, 2017
Moreno is considered the "heir apparent" of previous President Rafael Correa, who has been in office for three terms.
contested result
For days, Guillermo Lasso, a former banker and Ecuador's conservative challenger for the presidency, who recorded 48.86% of the vote, has been alleging fraud and vote rigging.
Supporters of Lasso's Creo Suma, or Creating Opportunities, party have taken up his cry. One, a protester named Gustavo Palacio, said:
"We are not going to allow an illegitimate government, this gentleman, Lenin Moreno, who they are proclaiming the president of the republic, we will not let that happen. Because he's illegitimate. This is all being done through fraud."
Despite these accusations, the Organization of American States election observers "found no discrepancies between the observed records and the official data".
bad faith and inciting violence
In calling Lasso's bluff on Wednesday, Country Alliance took the opportunity to denounce his bad faith.
Country Alliance Assembly Member-Elect, Jose Serrano said:
"We embrace the challenge put forward by the CREOSUMA movement to review the 1,795 ballots by the National Electoral Council. And we ask that body this review to be done immediately, in a public setting, before the national and international media. And before delegates from the two political parties to demonstrate, once more, that they are lying to the country that there was a fraud of public faith, that they are inciting violence and trying to sew chaos in our beloved Ecuador. Enough of the violence."
Doris Solis, General Secretary of the ruling party said:
"The vote recount, which we are backing, and ask the National Electoral Council for, should be done as soon as possible. This exercise should strengthen Ecuadorean democracy, and forever isolate all the liars and wrongdoers who our nation doesn't deserve."
Since the election result was announced, there have been violent protests across Ecuador.
#Quito has a message! #VamosPorElCambioLassoGuillermo</a> <a href="https://twitter.com/andrespaezec">andrespaezec#ecuador#democracy#notecreoCNEpic.twitter.com/x89LSoaJiz

— Polina Kerman (@PolinaKerman) April 6, 2017
good news for Assange?
One man who will certainly not join the protests is Wikileaks founder Julian Assange, whom Guillermo Lasso promised to eject from the Ecuadorian embassy in London should he come to power.