Merkel ally Weber warns London on euro clearing business
Comments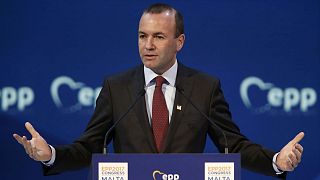 The Brexit battle lines have been further drawn after German politician Manfred Weber warned that the City of London stands to lose its leading role in euro-denominated business after the UK leaves the EU.
The British capital is the world's leading clearing centre for euros, but Weber insisted the prized sector must relocate to EU soil.
''My feeling is that some of the politicians in London still have not understood what leaving the European Union means at the end. That means to be alone, it means to be alone," Weber said.
He added, ''Great Britain is, after leaving the European Union, a third country, so there is already a competition going on about who can win after this process. It will be not an advantage, it will be not a positive thing for the City of London at the end. I regret this, I have to say this again, I regret this very much, that we have all these things on the table but it's due to the outcome of the British voters."
Weber, who is head of the centre-right EPP group in the European parliament and a key ally of Chancellor Angela Merkel and EU Commission chief Jean Claude Juncker, has said the bloc should protect the interests of EU financial hubs, like Paris, Frankfurt, Dublin and Amsterdam.
So far Brussels has not taken a clear position on London's clearing business ahead of the Brexit talks.