US intensifies Yemen airstrikes
Comments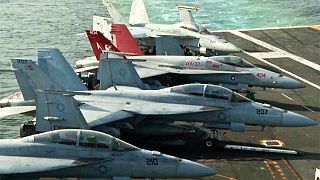 It is another sign that the US is stepping up attacks on al Qaeda in Yemen.
The Pentagon said on Monday that since the middle of last week there have been a further 20 strikes against the jihadists, bringing the total number since the end of February to over 70.
Pentagon ramps up Yemen airstrikes https://t.co/9um1BRXXTQpic.twitter.com/t9DnAqixBl

— The Hill (@thehill) 3 avril 2017
US strikes, conducted with aircraft and unmanned drones, are targeting al Qaeda in the Arabian Peninsula, which Washington regards as one of the deadliest branches of the extremist network.
The group has exploited Yemen's civil war to recruit followers and cement its dominance in parts of the divided country where two years of conflict have left more than 10,000 people dead.
The fighting has also pushed the impoverished nation to the brink of famine.
#Yemen: After 2 yrs of conflict, close to half a million children suffer from severe acute malnutrition #4famines#PhotoOfTheWeekpic.twitter.com/IImT79scP5

— UNICEF (@UNICEF) 1 avril 2017
with Reuters