Venezuela: protests go on despite court backdown
Comments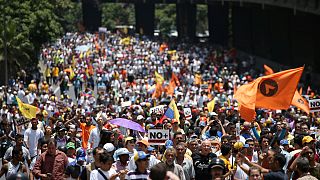 After protests at home and worldwide condemnation, Venezuela's pro-government Supreme Court has revoked its planned takeover of the opposition-led congress. But the protests continue.
Denounced as dictatorship, Venezuela backs down, reverses court's ruling on legislature's powers https://t.co/MkpRLUhFlypic.twitter.com/yDKydyxv44

— Paolo Manzo (@pmanzo70) April 2, 2017
"This controversy is over," claimed President Maduro at a specially convened state security committee whilst the opposition are seeking to maintain mobilisation in the streets and push for an early general election.
Venezuela seeks to cool outrage over court power grab https://t.co/2BqyPZRKzcpic.twitter.com/t6dQciuKrv

— Reuters Venezuela (@ReutersVzla) April 1, 2017
"They should't believe that by erasing one word in the sentence the mistake has been resolved," declared Parliament President, Julio Borges an open-air meeting of the National Assembly in a Caracas square on Saturday. "This sentence is a culmination of a coup d'etat that has been coming for months and years in Venezuela and you can't change it with a one-paragraph sentence."
Borges publicly tore up the court rulings this week and refused to attend the overnight security committee, whose members include the heads of major institutions.
In a bid to cool tensions, Maduro met with the Attorney General who broke ranks to criticise the power grab and asked the court to reverse its decision.
Opposition leader, Henrique Capriles called on the government to free jailed activists, allow humanitarian aid into Venezuela, call elections and restore congress.
A new round of protests in Venezuela means a new round of reporters getting beat up, like this woman who was reporting for Colombian radio pic.twitter.com/G4Pp2d0IQk

— Hannah Dreier (@hannahdreier) March 31, 2017
The Supreme Court's flip-flop may assuage protesters but Maduro's opponents at home and abroad are likely to maintain the pressure. They are furious that authorities thwarted a push for a referendum to recall Maduro last year and postponed local elections scheduled for 2016.