UK politician is slammed for 'sabre-rattling' over Gibraltar
Comments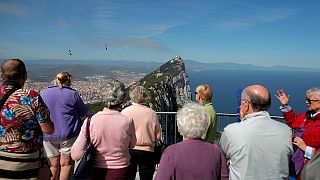 Everyone knows Brexit will be difficult – but is talk of war a step too far?
How does this kind of diplomacy help our Brexit negotiations?

Labour Party Deputy Leader
Amid heightened tensions with Spain over the disputed territory of Gibraltar, military action appeared to be the implicit threat from a former leader of UK Prime Minister Theresa May's ruling Conservative Party.
Lord Howard drew a direct comparison with the 1982 Falklands War, when British troops forced out occupying Argentine forces from the islands known by Buenos Aires as Las Malvinas.
"Thirty five years ago this week, another woman prime minister sent a task-force halfway across the world to defend the freedom of another small group of British people against another Spanish-speaking country and I am absolutely certain that our current prime minister will show the same resolve in standing by the people of Gibraltar," Howard told Sky News on Sunday.
The post-#Brexit situation in #Gibraltar has been compared to the #Falklands by former Tory leader Michael Howard #Ridge@SophyRidgeSkypic.twitter.com/FB1FTZfuQy

— SophyRidge On Sunday (@RidgeOnSunday) 2 avril 2017
His remarks have been slammed by opposition politicians in the UK.
Defence Minister Sir Michael Fallon, meanwhile told the BBC: "The people of Gibraltar have made it clear they don't want to live under the sovereignty of Spain. Gibraltar is going to be protected all the way."
Responding to Howard's remarks, Tim Farron, leader of the centrist Liberal Democrats, denounced 'inflammatory rubbish'.
This is inflammatory rubbish > Theresa May would go to war to protect Gibraltar, Michael Howard says https://t.co/uFLACfbVJu

— Tim Farron (@timfarron) 2 avril 2017
Tom Watson, deputy leader of the left-wing Labour Party, was equally scathing.
Senior Tories raising the prospect of war in Europe. How does this kind of diplomacy help our Brexit negotiations?https://t.co/WvekX2ueZE

— Tom Watson (@tom_watson) 2 avril 2017
There was no talk of war from Theresa May but the premier reiterated on Sunday that Britain is "steadfast" in its commitment to Gibraltar and will work with the territory to secure the best possible outcome from Brexit talks.
Spain claims sovereignty of Gibraltar on its southern tip. And, as Britain prepares to start its divorce talks with the EU, Brussels has offered Madrid a right of veto over the territory's future relationship with the bloc.
Residents of Gibraltar strongly opposed leaving the European Union in the UK's referendum last June.
with Reuters