Venezuela: Ruling sparks protests
Comments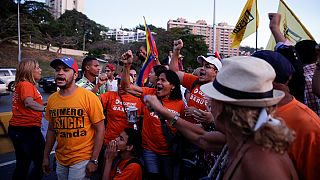 Tensions are rising in Venezuela after the country's judiciary ruled that it was to assume the functions of the opposition-led National Assembly. Critics lambasted the move as a "coup" while protesters blocked roads, unfurled banners and chanted slogans against President Nicolas Maduro's increasingly unpopular government.
In a rare show of dissent, Venezuela's powerful attorney general Luisa Ortega said:
"In the Supreme Court's decisions, there are evident violations of the Constitutional order and a disregard for our state model, the written Constitution of the Bolivarian Republic of Venezuela. It constitutes a rupture of the constitutional order."
The pressure piled on Maduro as he faced condemnation from across the globe including the European Union, United Nations, United States and neighbouring Latin American nations. He responded on state television at a technology convention, insisting:
"The National Assembly has seen its powers minimized because of its own errors, in an atypical situation … But it is a product of its own illegalities".
Maduro was elected in 2013 amid widespread support for the ruling Socialist Party's oil-fueled welfare programs.
But his ratings have sunk to just over 20 percent as Venezuelans struggle with recession, lack of food and medicine and the highest inflation and murder rates in the world. For now, US President Trump does not seem to have a fully-developed policy for relations with Venezuela. In the past Maduro has accused Washington of trying to topple his leadership as part of a wider assault on Latin American leftists.