Paraguay: Police blamed as protester dies in clashes
Comments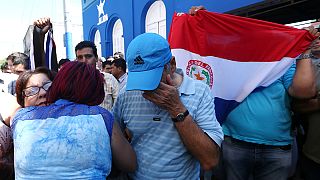 The death of an activist during a police raid in Paraguay has heightened tension after a night of violence that saw the country's parliament stormed and set alight.
Rodrigo Quintana, 25, was killed by a rubber bullet fired by police at the headquarters of a liberal youth activist group, the Paraguayan opposition said.
It was the darkest episode of a night of unrest sparked by a secret vote in the Senate for a constitutional amendment that would allow President Horacio Cartes to run for re-election.
Quintana's death overnight on Friday was captured on security cameras at the party's offices in the capital Asuncion.
The images are difficult and readers are asked to use their discretion in deciding whether to watch.
Warning: Disturbing Video
The Interior Ministry said in a statement that an investigation would be opened into Quintana's death. His doctor said he had suffered a severe head injury.
Firefighters managed to control the flames on the parliament building's first floor, although thousands of protesters rioted in other parts of Asuncion and elsewhere in the country into the early hours of Saturday.
Around 200 protesters were detained, police said, and shops and government buildings were vandalised.
Violence as Paraguay president attempts to overturn one-term rule https://t.co/sKq82rWl36

— Financial Times (@FinancialTimes) 1 avril 2017
Amid clashes with security forces, politicians, journalists and police were all said to have been hurt.
Paraguay's constitution has prohibited re-election since it was passed in 1992, after the fall of a brutal dictatorship.
Opponents of moves to amend the text claim it would weaken the country's democratic institutions. They say the Senate vote was illegal.
with Reuters