Myanmar by-election seen as test for Aung San Suu Kyi
Comments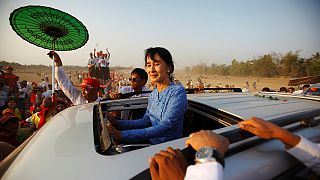 One year since Aung San Suu Kyi's party swept to power, by-elections have been held in Myanmar in what is considered a test of the leader's popularity.
There are 19 empty seats to be filled across the national and regional parliaments, either due to deaths, promotions or because they weren't filled in the 2015 ballot.
Results are expected on Sunday at the earliest, but turnout is predicted to be low.
The excitement and nationwide engagement witnessed during the general election have been lacking in the run-up to the vote. Election rules meant Suu Kyi was prohibited from campaigning on behalf of her National League for Democracy (NLD) party.
But in an address earlier in the week, she reiterated her vow to put a stop to the ethnic conflicts keeping the country in an almost-endless state of civil war.
The NLD is perceived to have made slow progress in the last 12 months. The main opposition Union Solidarity and Development Party is hoping that will swing in its favour.