Turkey accused of operating vast spy network across four continents
Comments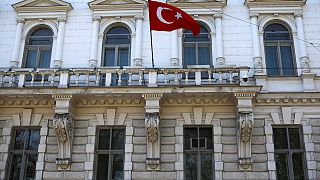 Turkey has been accused of operating a massive spy ring on four continents, including Europe.
Recently released documents claim Turkish embassies have been submitting reports on foreign-based supporters of President Erdogan's arch-enemy Fethullah Gulen.
Austria, Germany and Switzerland have all launched investigations into the alleged espionage.
The papers were made public by Austrian Green politician Peter Pilz. He said: "We were surprised ourselves when we saw that Erdogan's Turkey has built a tightly meshed spy network from Japan to the Netherlands, from Kenya to the UK. In every single state a huge spy network consisting of associations, clubs and mosques is being employed via the embassy, the religious attaché and the local intelligence officer in order to spy on Erdogan critics around the clock."
The claims of illegal espionage come amid rising tensions between the EU and Ankara.
Ties between Turkey and European countries, notably Germany and the Netherlands, have nose dived recently as President Erdogan tries to drum up support for the April 16 constitutional referendum.
A 'Yes' vote would see him gain sweeping new powers.