Serbian PM expected to win presidential election
Comments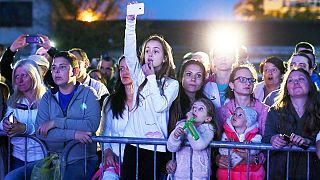 On Belgrade's waterfront an injection of money from the United Arab Emirates is fuelling a shiny new development, a sure sign that a capital city has hit economic good times.
Unemployment and the public debt have both dropped in Serbia and if the electorate votes with the economy in mind on Sunday, Prime Minister Aleksandar Vucic should have little trouble winning the presidency.
There are some inconvenient truths to this narrative however. To begin with, some election monitors have raised alarm bells about the potential for electoral fraud
"There is no indication of such an abuse of power, so the government responds with a different type of accusation that those who talk about rigging are preparing the ground for disputing the vote and protests," political analyst Dragomir Andjelkovic said.
One of the presidential candidates has also complained about the absence of a prominent international election monitoring body, the OSCE, as well as a media bias that favours Vucic.
Almost all major newspapers have covered their front pages with adverts for Prime Minister Aleksandar Vucichttps://t.co/ttrL8sBqEZpic.twitter.com/9xb9RgvxV5

— Balkan Insight (@BalkanInsight) March 30, 2017
"This is the first time the OSCE was not invited to observe the elections. This is a campaign in which the ruling party's candidate received 120 times more media coverage than all opposition candidates combined," Vuk Jeremic said.
If he wins it's clear that Vucic will cement his already firm hold on power – and opposition leaders say that means Serbia will become more authoritarian.
"Now we have a Prime Minister who is running for the president of the country from the position of the Prime Minister. I don't know a single democracy in the world where that's the case. It seems it's not a problem for any of the European leaders," said Sasa Radulovic, the presidential candidate for the "Enough is Enough" movement.
Serbia's intellectual elite has rallied around another presidential candidate, Sasa Jankovic, a former ombudsman whom they believe capable of putting an end to Serbia's well documented corruption and cronyism.
"Talking to citizens face to face without bodyguards, cameras and spotlights. This is what I want to bring back – a connection between citizens and their state. The state and policy became completely alienated from everyday life," he told Euronews.
The election also features a populist oriented presidential candidate, Luka Maksimovic, or "Beli," who has discovered that comedy can win over plenty of millennial voters.
It started as a joke, a way to poke fun at a discredited political class in elections last year for the local assembly in this rundown town in central Serbia.
Maksimovic donned a white suit and loafers, an over-sized gold watch and gaudy ring, and rode a horse-drawn carriage through the town of Mladenovac, promising jobs and cash to anyone who would give him their vote.
He assumed the guise of the worst kind of politician – a sleazy fraudster christened Ljubisa 'Beli' Preletacevic. Beli means white in Serbian, while Preletacevic denotes somebody who switches political party for personal gain.
His message is very clear: politicians are not to be trusted and he's often compared to another populist, Italy's Five Star Movement leader Beppe Grillo
"We don't need that much money. We collected a million dinars (just over 8000 euros) from donations. Two thirds were spent on notaries who certified signatures of campaign supporters. The last third was spent on the campaign," Luka Maksimovic told Euronews.
Beli is an internet sensation who is engaging youngsters who might not otherwise vote – and if there's a big increase in the turnout that could be a political game changer.
One opinion poll published on March 21 has Maksimovic's alter ego coming second, albeit far behind Vucic.
Such a result – barely a week after Maksimovic entered the race – represents a damning indictment of the mainstream opposition.
And it also sends a worrying message to Vucic's ruling Progressive Party about the depth of popular disenchantment in this impoverished corner of Europe.